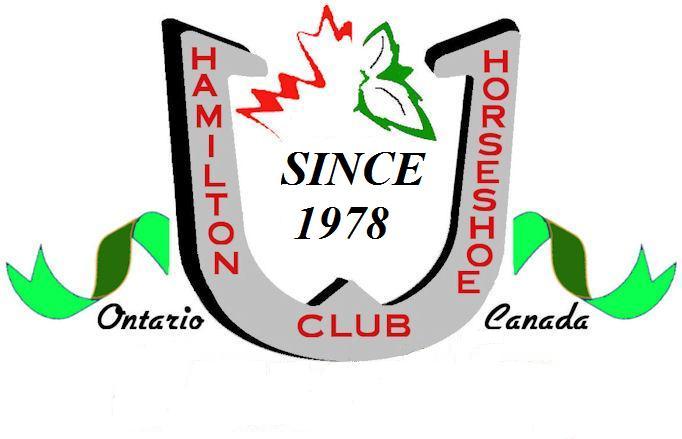 If Your looking for a Horseshoe Club in Ontario or Canada
Click on the links, Lots of information about Horseshoes.
Welcome to Hamilton Horseshoe Pitching Club
In operation since 1978, the H.H.P.C. 170 Brockley Drive in Hamilton Ontario, with six indoor artificial clay courts and four outdoor sand courts.Tournaments take place year round with the majority being in the winter months. Our regular visitors include a group of American friends who also enjoy pitching indoors during the cold weather. League play is on Tuesday and Thursday mornings and evenings and sanctioned tournaments and fun events are scheduled for the weekends. As well, our club has a number of regular social activites, annual dinners and dances. L.L.B.O. New members are welcome. Try playing horseshoes three Tuesday nights free before you join as a member. It's great exercise and lots of fun too!
NEW MEMBERS WELCOME!
See you on the Pits??
---
ATTENTION
The Annual Sandbaggers Golf Tournament is coming up, 2018
New Addition to our Club
BROCKLEY ARCHERY CLUB
Check out the new page for info.
---
Hector FORREST
FORREST, Hector Peacefully passed away at home on Tuesday, November 7, 2017 just days before his 75th birthday. Predeceased by his parents Rose and Augustine as well as longtime companion, Marilyn Heaslip. Loving father of Liana (Andy) Hoodless and Kelly (Chuck) Duran. He is survived by his siblings Colette (the late Gord) Way and Marcel (Carol Anne) Forrest. Hector will be forever missed by his nieces, nephews and several longtime friends, Sheila, Brian, Paul and Davey. He was a retiree of Stelco following many years of service. Hector was a member of the Hamilton Horseshoe Club. At his request cremation will take place. A Service of Remembrance will be held at the L.G. WALLACE FUNERAL HOME, 151 Ottawa St. N. (905-544-1147) on Sunday, November 12th at 2 p.m. with visitation from 1 p.m. until service time.
Hector was a long time member of the Hamilton Horseshoe Club, A passed president, and current Vise president. He devoted countless hours of his time to the Club and he will be missed. A Big Thank You, Hector, May you rest in peace, PS. Rest assured the pits will be groomed and ready for us when we get there, at the big Tournament in the sky.. H.H.P.C.
To All,
I am happy to announce that the Executive of the Hamilton Horseshoe Pitching Club has passed a motion to lower the dues for Nov. 1, 2014 to October 31, 2015 to $100.00 (plus HST).
These dues are due by November 1st. You will receive full membership rights which include:
1. Able to
practise
anytime there is no function being held.
2. Able to join the Thursday Night League.
3. Able to play Tuesday evenings and Tuesday and Thursday mornings.
4. Able to participate in the many other functions being held at the club such as progressive euchre,
texas
hold-em, darts, fun nights, dances, etc.
5. Guaranteed entry into any sanctioned tournament . Schedule Tournements link for dates.
Please help us spread the word about this change in dues. We ask that you consider joining the Thursday Night League play that will run from Oct. to May .
Feel free also to check out our new and improved website - hhpc.bravehost.com and hit save in your favourites so you can check in anytime, or email us at
home@hamiltonhorseshoe.com
.
Looking forward to seeing you all on the "courts" soon,
Search Engine Optimization and Free Submission